Shield AI aircraft operator Toby Stewart waits for a V-BAT to return to USS Arleigh Burke's (DDG 51) flight deck while underway in the Irish Sea.  
From training, production flight testing, and demonstrations to deployed operations and engineering flight testing, Shield AI's Flight Operations Team does it all. We recently sat down with three flight operations team leaders to learn more about this incredible team and the work they do around the clock to make customers proud.  
With more than 250,000 hours of Group 3 unmanned aircraft system (UAS) flight experience and more than 250 overseas deployments, there's not much Shield AI's 70 V-BAT operators haven't seen or done. To even further capitalize on the extensive expertise and wealth of experience these pilots possess, Shield AI recently codified a new flight operations model.  
Jayson Olner, who leads the nearly-fifty-person Field Service Representative (FSR) Team, describes the new model as an "interlocked web of pilots and support." Jayson sees the structure as an enabler of professional growth and team efficiency. "Our pilots are now better able to try new roles within flight operations so that there's more of a pipeline," he explained. "The new flight operations model keeps our people gainfully employed, and ensures they are always learning not only about the aircraft and its mission capabilities, but also the customer and their needs."  
Jayson is a former UH-60 Blackhawk pilot and UAS pilot. Prior to entering his management role about a year ago, he flew the V-BAT in support of partner nation relations in the SOUTHCOM Area of Responsibility and wherever else he was needed. He recanted a more recent experience, where he stepped in at the last minute to fill in for a member of the demonstration team heading to Europe. "This team is built on the fact that every single one of us can and will step up and jump in to fulfill any emergent needs. That's just what we do," he stated confidently. 
The flight operations team is on pace to have over 40 pilots overseas simultaneously later this year, which means flight operations with 10 crews in 14 time zones for 24/7 operations. Fortunately, the members of the team are no strangers to spending time in foreign lands: there are only three countries in the world that none of the 70 pilots have spent time in during their illustrious careers as aviators and aircraft operators. 
One of those pilots is Dave Welch, a Retired U.S. Army Special Forces Chief Warrant Officer Four (CW4) who served in both the Navy and Army for a 26-year career. Dave joined Shield AI last year as the Customer Accounts Training Team lead. He spoke with us for this story from Arizona, where he is currently supporting operational testing for Shield AI's Multi-Mission Tactical UAS (MTUAS) customer. The lead V-BAT instructors training the SOCOM MTUAS customer, Dan May and Travis Bramwell, previously ran the Naval Special Warfare Advanced Training Command UAS Schoolhouse customer. Having these best-in-the-business tactical UAS instructors in this essential role ensures the V-BAT training curriculum is aligned with the MTUAS customer schoolhouse training, and this anecdote speaks to the pedigree of people assembled by Shield AI to deliver the most value to customers.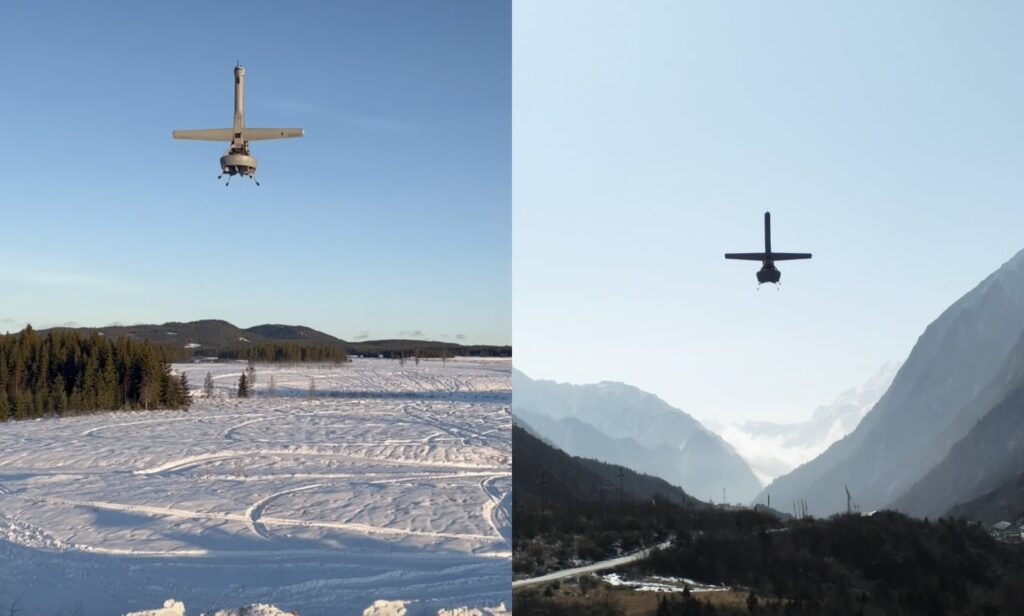 Side-by-side photos of demo flights in Europe and Asia, taken just a few days apart. V-BAT demonstration teams operate in the toughest environments alongside customers, which allows our world-class engineers to continuously update V-BAT to ensure it's ready for any challenge.
Dave's team travels around the world to support the customer with top-notch training, because when we sell V-BATs, we are also selling training. He served on the ground during 13 tours in Iraq, Afghanistan, Jordan, and Syria, and understands firsthand the immense value delivered by ISR platforms. "The platforms I worked with in the Army didn't have significant on-station time, and they were extremely loud. I remember the first time I saw ScanEagle, and I was impressed by its on-station time low sound profile. But then I saw V-BAT fly and was blown away because I could tell immediately it was going to be a phenomenal asset for the boots on the ground," he said.  "Special forces detachments don't have a lot of space to work with, so the fact that V-BAT can launch from rooftops and other small spaces with just two or three people is a game-changer." 
For Dave and his team, the decision to bring all V-BAT pilots under one "customer success umbrella," has already yielded excellent results. "Now all the teams are talking and sharing new information, which not only makes us all better pilots, but we are also better able to update our operator manuals, maintenance manuals, and checklists. This makes our support to both customers and each other much stronger and streamlined," he explained.  
Of course, flight operations encompass more than the deployers, demonstrators and trainers. Someone must ensure V-BATs get off the production line with the levels of quality assurance and reliability required to make customers proud, and that "someone" is the Production Flight Testing (PFT) team. The 12-person (and growing) PFT team is led by career UAS pilot Tommy Armstrong, a fully commercial-rated pilot, who has flown everything from  TigerShark and Viking, to ScanEagle and Resolute Eagle.  
Comprised of the absolute best diagnosticians and troubleshooters, the PFT team performs ground and air testing of all new aircraft and systems coming off the production line. "My teammates are well-rounded subject matter experts. We transform from a maintenance team to a flight team, and we aim to always send out the highest quality product because that's what our customers deserve," Tommy explained. The work they do is so critical because it entails all the quality control work before delivering aircraft to the customer or to deployers. "A lot of the team are former deployers, so they understand how helpful it is to make sure the deployers are set up for success. We never want our deployers to open up a bird and have it not work." 
When Tommy talks about V-BAT, he opts for adjectives like "gorgeous" and "beautiful." His deep appreciation for its superior architecture and aesthetic is palpable. "I have a lot of friends in this industry because it has been the only industry I've known for my entire career. Truthfully, they're terrified of us taking their contracts because V-BAT is just such an awesome aircraft. Prior to coming over to Shield AI, I was accustomed to flying aircraft with dangerous spinning props. On top of that, there is such minimal equipment needed to fly V-BAT, which really blew me away. Also, the way it transitions is just…it's gorgeous," he mused. 
While no one on the flight operations team would deny they were drawn to Shield AI because of V-BAT's elite status, they also wouldn't deny they stay for the people. "Most companies try to be the kind of place where their employees answer the question of 'what sets this company apart?' with 'the people,' but Shield AI is actually that kind of place," Dave said.  "This company is exceptional, and this team is exceptional and getting better every single day."