Intelligent, Affordable Mass Has Arrived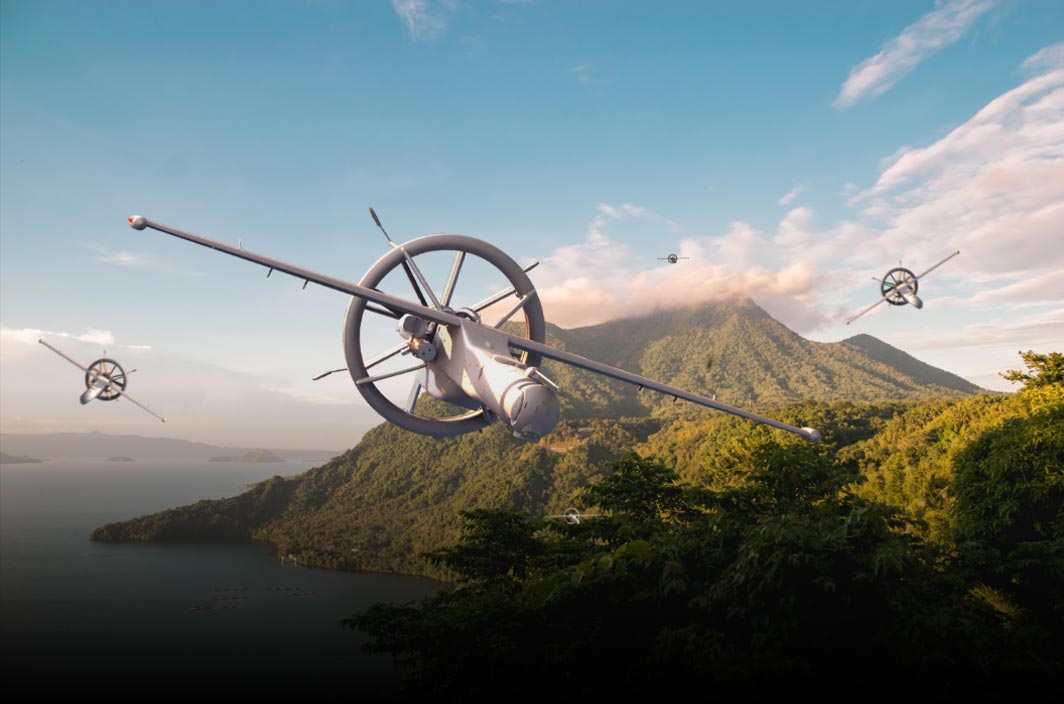 Strategic Deterrence for the Next 30 Years
This is not some pre-scripted drone light show.  It's fully autonomous, read and react, complex mission execution from take-off to landing. V-BAT Teams is powered by Hivemind, the world's best AI pilot and the most strategic defense tech of our generation. AI pilots enable aircraft to maneuver without GPS or communications and enable the concept of intelligent teaming – the ability to autonomously read and react to each other, adversaries, and the environment to accomplish the mission.  
And every mission makes them better. Like self-driving cars, when one V-BAT flies, the fleet learns. Flight experience is accumulated, retained, and shared at unprecedented speeds and scales. Winning is not enough, this is how we dominate, this is why the enemy is going to stay home.  
"We need 24/7 coverage, over 30,000 square miles, to find, fix, and put at risk over a thousand adversarial assets in a GPS- and Comms- contested environment; and we can't lose $30M-$100M every time one of our assets is shot down"
You wouldn't put Ricky Bobby in a Kia or Maverick in a Cessna. We put the world's best AI pilot on the world's best Group 3 unmanned aircraft. Smallest logistics footprint. Check. Best-in-class payload to takeoff-weight ratio. Check. No exposed rotors or blades. Check. Get-off-the-FOB-cause-its-going-to-be-targeted expeditionary capability. Check. SpaceX-cool launch and land VTOL. Check. Modular, open, upgradeable payloads. Check. Teaming on V-BAT just made too much sense. Warrants a surface to air missile shooting at it. Check. Advantage: V-BAT. 
Teaming is as Easy as 1, 2, 3
With modular compute upgrades, you'll always have the latest and greatest. The V-BAT Teams payload allows the world's best AI pilot to be installed on V-BATs in a matter of minutes and only requires the use of one mod-payload bay, freeing up the other two payload bays for additional V-BAT capabilities. Software updates come quarterly. New autonomy compute payloads released every two years.
V-BAT Teams run on Xavier
The NVIDIA GPU of choice for AI pilots everywhere
Built specifically to power autonomous machines on the edge, Xavier outperforms all others in visual odometry, sensor fusion, localization and mapping, obstacle detection, and path-planning algorithms, which are all core compute functions of V-BAT Teams.
384-core NVIDIA Volta architecture GPU + 48 Tensor Cores
6-core NVIDIA Carmel Arm®v8.2 64-bit CPU 6MB L2 + 4MB L3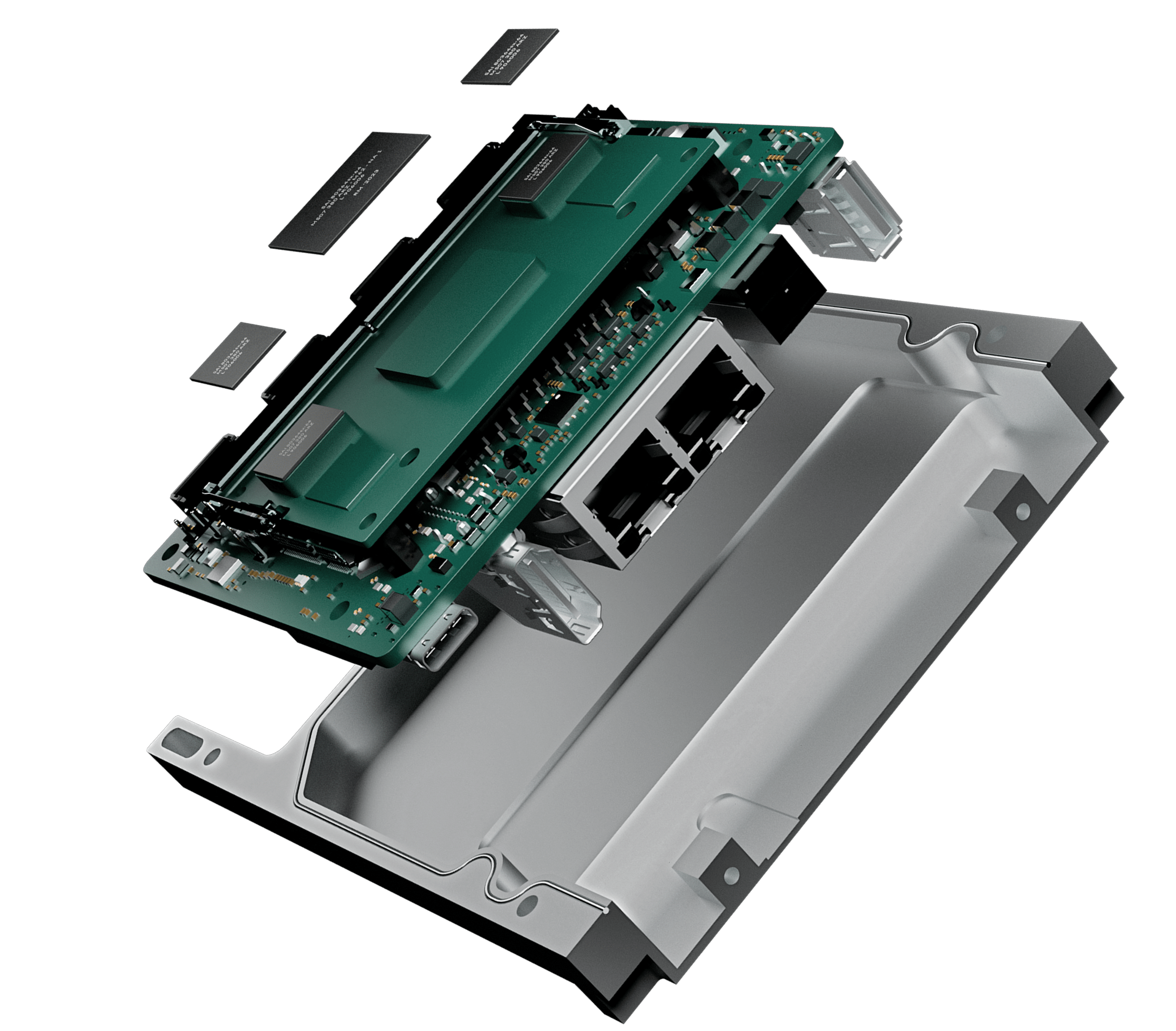 The end-all, be-all of conventional deterrence is here: the ultimate force multiplier. V-BAT Teams gives squads the combat power of a battalion. It gives battalions the combat power of a corps or a division. A single warfighter can now command teams of aircraft to execute commander's intent. Mission rehearsal begins in simulation; team-size is optimized for success; and then, go-time.
"Without quality targeting, it does not matter how many munitions we build."
Intelligence drives operations. Providing targeting information in the most hostile EW and kinetic environment in human history requires the smartest aircraft teams in human history. V-BAT Teams delivers intelligent mass at a price point and capability that exists nowhere else. 
V-BAT Teams will enable warfighters, not engineers, to create autonomy and asset mission packages. Instead of the operator performing complex mission planning for each individual robot while rationalizing and strategizing about the coordination among these robots, the operator is provided with a ready-to-fly system tailored for this mission, which is tested and validated across thousands of simulated missions. As V-BAT Teams scales the result will be certified and trusted autonomy stacks to execute the most strategic and complex combined-arms maneuvers and missions. 
Rethinking Your Force Structure
Breakthroughs in AI and autonomy by Shield AI enable intelligent, affordable mass and ensure it is no longer a future concept but an operational reality. V-BAT Teams is scalable to hundreds and even thousands of aircraft, shifting warfare toward large teams of autonomous aircraft that perceive their real-time environment. Read and make rapid, intelligent decisions as a partner force with American and Allied warfighters.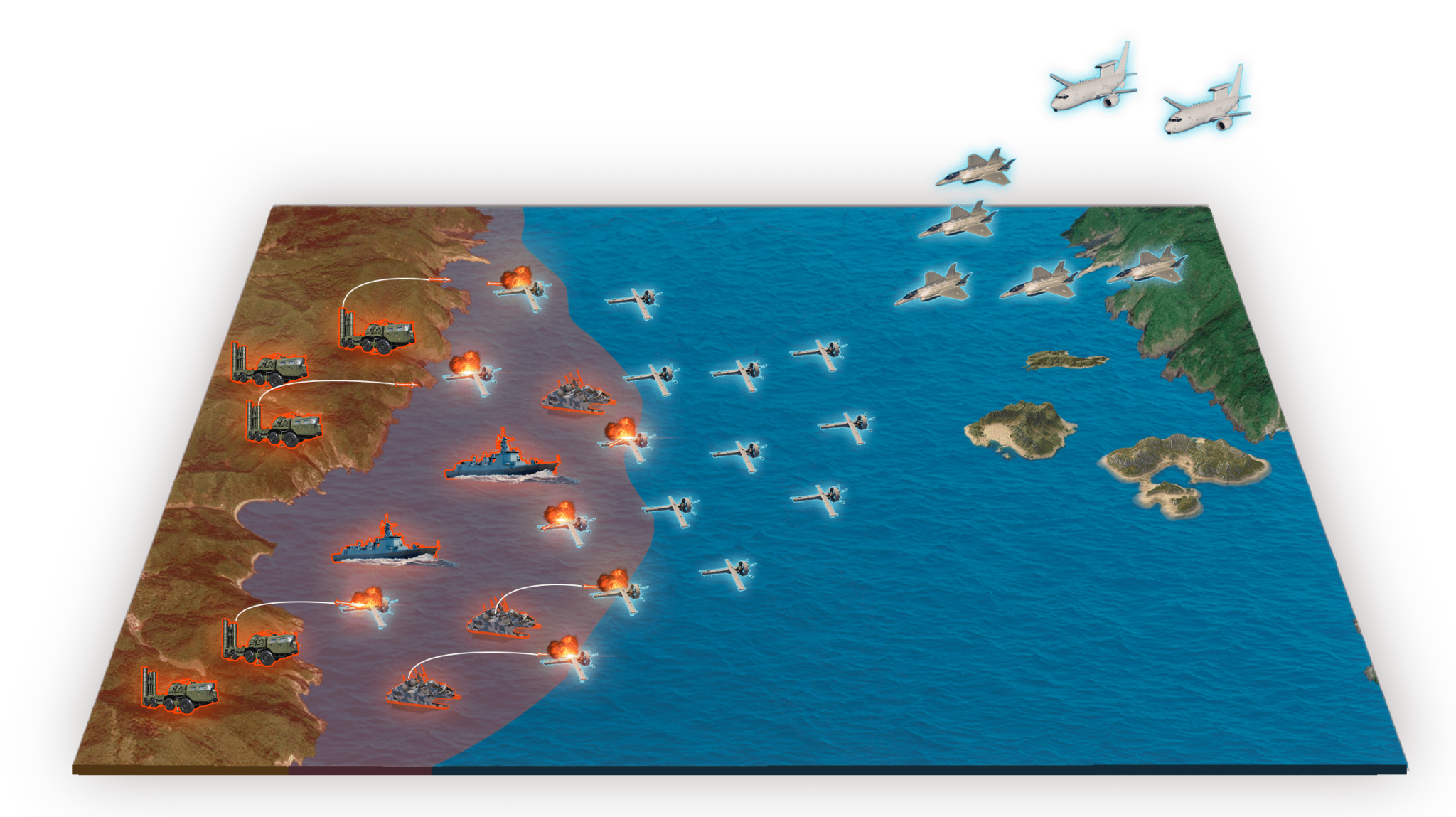 V-BAT Teams: The Ultimate Missile Sponge
Modern warfare between advanced militaries is no longer about 1v1 weapons capability but forcing the enemy to consistently expend higher-priced weapons on your cheaper assets. V-BAT Teams unlocks intelligent, affordable mass that will overwhelm adversaries through superiority of numbers which will saturate area defense systems and will force them to waste guided-munition stockpiles and trade them for comparatively cheap aircraft.
Gone are the days of Conex boxes on large airbases and ops centers with a hundred screens to monitor every mission. No matter the size of the V-BAT Team, the briefcase size GCS is all the commander needs to accomplish the mission.  Commanders don't require all the information all the time, they need the right information at the right time to make the best decisions. That's what a great UAS user experience provides.
The GCS ruggedized mobile control station, equipped with easy-to-view large displays and top-of-the-line compute and graphics, was designed from the ground up to manage large teams of aircraft. It is intended to operate on-board vehicles and function in expeditionary environments with unreliable power, adhering to full MILSPEC standards.
"The first V-BAT will lase the target, the 2nd V-BAT will deliver the kill shot." Like a scene from Top Gun 2, V-BAT Teams equipped with kinetics, like the Northrop Grumman Hatchet, own the kill chain from start to end, because sometimes long range precision fires are not available or other loitering munitions can't operate without GPS. V-BAT Teams find the targets, fix them with a laser, and finish them from extreme standoff to redefine targeting cycles.
Precision strike munition with compressed carriage design and explosive power equivalent to 80% of 500 lbs bomb.
GPS/INS midcourse and semi-active laser terminal
 Order now to secure your spot. V-BAT Teams deliveries start in 2024.