At Shield AI, we love a good story. Whether it's a story about one of our teammates going above and beyond to delight a customer or colleague or a story about how our tech helped a warfighter in combat, we are always eager to hear and share it. We recently sat down with Renee Hubener, a V-BAT program manager, to hear her "path-to-Shield AI story." 
In 1992, when women made up less than 4% of the Marine Corps, Renee Hubener decided to enlist. This decision was triggered by a three-year struggle in college to find a career path she could envision herself enjoying.  She went on to serve in the Marine Corps as an F/A-18 avionics technician, which she lauds as some of the best years of her life, for six years.  
But balancing her career and family needs – her husband was also serving in the Marine Corps, and they had a child with a second on the way – meant she had to make the difficult decision to transition to the civilian workforce. They departed their beloved duty station in Japan and headed back to the States to start a new chapter. 
---
"V-BAT is just such a unique aircraft. I had never seen anything like it."
---
She landed at Rockwell Collins, which now operates as part of Raytheon via Collins Aerospace, as an operations manager. But because Renee never shies away from change and adventure, she also tried her hand at program management in the in-flight entertainment division and after-market avionics maintenance programs. 
"Sometimes in life, it's good to change direction, and I have done that throughout my career." Flash forward 20 years, Renee found herself at the precipice of another career shift. When she learned about an opportunity to join the Martin UAV team as a program manager, from an out-of-the-blue LinkedIn message, she was intrigued. She had already opened herself up to the idea of making a change, since Rockwell Collins' had been acquired by United Technologies and further consolidations were on the horizon, but this represented a significant pivot.  
"It was certainly a leap of faith. I knew very little about unmanned aircraft or drones. I only knew big aircraft, specifically 737s," she explained. "But I've always loved challenges and V-BAT is just such a unique aircraft. I had never seen anything like it. It was an inspiring opportunity, so I proceeded with the interview process." 
After receiving a tour of the V-BAT production facility, she couldn't walk away from this job opportunity.  Renee made the easy decision to join the company as employee #50 in a program manager for contractor-owned, contractor-operated (COCO) deployment operations role. In this role, she gets to work directly with the company's field support representatives and our warfighter customers, with the option to spend time in the field. "I am involved with the customer on a day-to-day basis, and that makes it so exciting to me. It's been three years and I have been loving every minute of my work here." 
For Renee, the work she's doing is a sort of "full-circle" life event. "One of the coolest things about my work in this role is that I am directly supporting Marine Corps operations after being completely removed from the Marines for nearly two decades." She is witnessing firsthand the swift adoption of V-BAT by the Navy and Marine Corps, which shows no signs of stopping any time soon. "We now have many crews supporting the Marine Corps and the Navy across 14 time zones, which represents true 24/7 operations. This has grown exponentially from where we were just a year ago." 
Working with V-BAT deployed operators has also allowed Renee to flex her challenge-seeking muscles. The best example of this is a short sea story involving the U.S. Coast Guard and COVID-19 complications.  "The Coast Guard asked for a demonstration off a 270-foot cutter back in the summer of 2020. This represented the first launch of a UAS off a medium size cutter, so it was a big deal," she explained. Renee and the crew had to get COVID tests and wait to be medically cleared, but because someone in the group tested positive on the fourth day, they had to wait another four days to re-test and get medical clearance. By then, the ship had already left Virginia. They met the boat in Key West and she stepped in and learned how to be a V-BAT ground operator on an accelerated training timeline. 
---
"We now

have many crews supporting the Marine Corps and the Navy across 14 time zones, which represents true 24/7 operations…"
---
"We had worked for eight months leading up to this shakedown event, so the mindset was that we had to do whatever it took to make this a success." Renee sees this anecdote as a great example of how rewarding it can be to work at a smaller company, where people wear multiple hats in their job functions and get to step outside their comfort zones. There are many more stories she can share, but one other "expeditionary tale" sticks out in her memory as particularly noteworthy.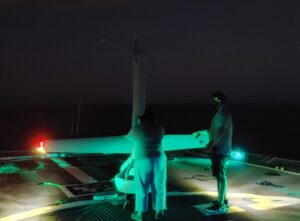 "I will never forget when we supported the 11th Marine Expeditionary Unit's Realistic Urban Training Exercise. This was our first time working with the Marine Corps on land and didn't know what to expect. On the fourth day, they asked us if we wanted to support a live-fire exercise at Twentynine Palms. A lot of times we talk in theory like 'yes, V-BAT can do that!' But this was a chance to prove a capability set." Renee and the team drove their SUV up to "comms hill," a high-elevation point known to optimize communications relays and launched V-BAT from the trunk of the SUV. "We were giving the artillerymen the grids for mortar drops, while simultaneously watching the accurate drops both in real-time and through the laptop interface. It was seriously so cool." 
If Renee's story conveys one core truth about Shield AI, it's that our teammates are much more than their job titles. Renee isn't just a V-BAT program manager. She's a United States Marine, a wife and mother, a V-BAT ground operator, an expeditionary operator, and a courageous adventure-seeker – and all these life "titles" make her an even better teammate.