A conversation with Mark White, an Electrical Engineer at Shield AI
Why is Shield AI the best place for an electrical engineer to be?
One of the big career risks engineers face is to slowly be siloed into a specific role. I've seen this happen to many of my peers and have personally fought to avoid it in my past jobs. When you focus exclusively on doing just a few things, your fundamental skills and breadth of knowledge start to narrow and degrade. The most useful electrical engineers in any organization bring experiences from all the disciplines employed in a full product design cycle: defining product requirements, circuit design and fundamentals, PCB layout, EMI testing and compliance, production tests, communications, power and signal integrity, etc. Not only will knowledge in each of these areas make you a better electrical engineer, it also will make the design cycle a lot more fun because you can contribute to each phase.
At Shield AI, we encourage our electrical engineers to be involved in all phases of the design cycle. We understand that most people who join the team haven't had this opportunity yet, so we focus on finding people with complementary strengths so the team can teach and learn from one another. Being part of a team built this way has completely re-energized me as an engineer. My professional capability has accelerated faster and with more intensity than with any other opportunity I've had. I've also discovered a motivation and a connection with both  the product and the customer that I never thought possible in engineering.
What is the most challenging problem you have worked on?
It is hard to pick just one. A tough problem I am working on now is a sub-system design for our next generation product. We will use multiple sensors to collect a 3D depth profile of the environment around our robot. This data must be collected from each sensor, passed through a specialized processor, and then analyzed by our main system computer. The data is very high speed, the sensors are extremely sensitive to temperature, and the space we have to design the system is limited.
To solve this problem, I've worked closely with the mechanical engineering team, the sensor manufacturer, and have had to learn new skills in PCB design and signal integrity. The combination of fine pitch processor ICs, limited realestate, and the multitude of high speed data lines has made for a complex board design. In the near future I will focus on testing and qualifying the board performance to ensure quality as it moves into mass production.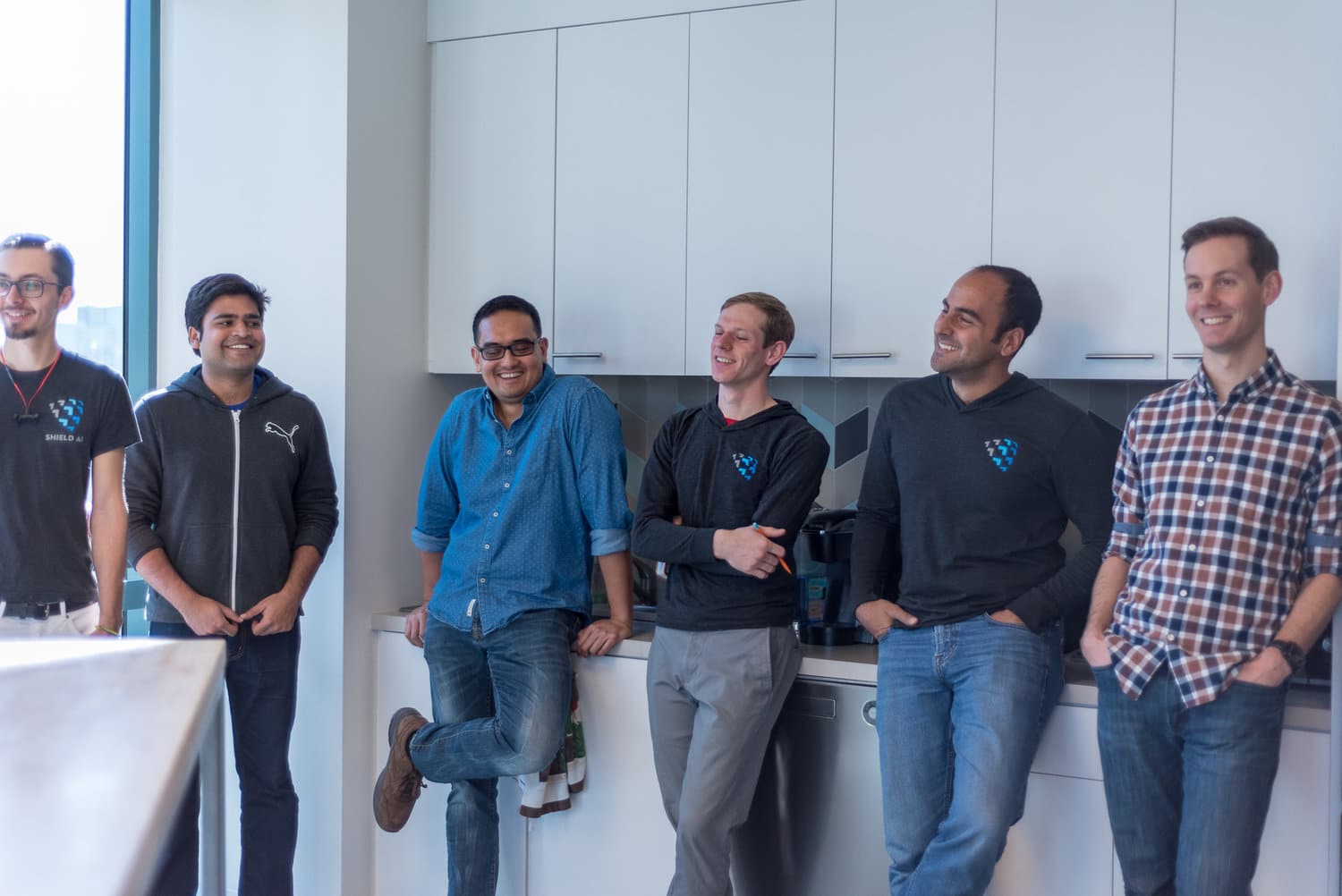 Many of your colleagues are software engineers, what have you learned or what has your experience been leading hardware in that environment?
I've learned how much I take for granted the integration of hardware blocks into the software system. At Shield AI I've been able to work closely with the software engineering teams to solve problems and understand how they use data provided by the hardware.Working closely with the software engineers has helped me appreciate the challenges of not only getting the right data at the right time, but also the complexities of how the software team works with the data to enable the AI.
When you're not working, what are you doing?
Most weekends are spent at the beach and hiking with my wife and dog. I break up each work day with a trip to the gym. I read as often as I can. My current book is on the history of modern medicine starting with Hippocrates. Most of my family is on the East Coast and I travel often to visit them, but I most recently returned from a trip to Peru with my wife. San Diego also has around 150 breweries, so I make time to enjoy the beer when I can.
What is your favorite Shield AI memory?
I think this is the toughest question I've had to answer!. Every day there are many laughs, stories, and ideas that we all share with each other that I really treasure. We work with an amazing group of people, most of whom I've gotten to know fairly well. My first time seeing our robot explore a training facility with one of our customers is definitely near the top. I was new to Shield AI and remember being uncertain what to expect as it autonomously explored the facility. The robot was moving really fast and I keep fearing it was going to clip a doorway as it zipped in and out of rooms. When it completed the exploration and returned home safely, I had a feeling of relief followed by a profound sense of awe at what I had just witnessed. It is a really exciting journey to be a part of.